Whether you're looking for cheap Altanta wedding venues or one that's not booked up three years in advance, this list will get you started on finding the best venue for your big day.
10 Cheap Atlanta Wedding Venues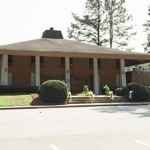 Location: 245 Azalea Dr., Roswell, GA 30075
Cost: Weekends and Holidays are $1,100 Rental Fee + $40/hr Officer Fee (Determined on size of party with 4 hour minimum); Weeknights are $600 Rental Fee. Chairs + Tables are included; Up to 200 guests.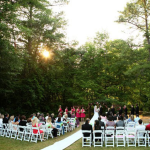 Location: 4400 Vecoma Lane, Snellville, GA 30039
Cost: Rental fees are $596 (M-Th 9am-10pm/F 9am-4pm), $1,120 (F after 6pm); $1,934-$2,502 (Saturdays/Holidays); $1,220 (Sundays). Includes tables, chairs, dinnerware, table decorations, clean up, dance floor, planning consultations, bridal room and extra 2 hours for decorations.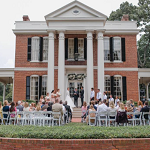 Location: 319 McDaniel Street, Monroe, Georgia 30655
Cost: The rental rate for the wedding package is $1,500, which includes 8 hours total, perfect for indoor and outdoor weddings.
Location: 1000 Robert E. Lee Blvd, Stone Mountain, GA 30083
Cost: This location is available for ceremonies only, for $1500 plus tax. Rental of the Formal Garden includes use of the garden for 4 hours, 100 chairs, and exclusive use of the adjacent bridal cottage.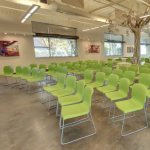 Location: 225 Chester Ave SE, Atlanta, GA 30316
Cost: $1,250 (M-Th Evening); $2,000 (F Evening); $3,000 (Sat-Sun) for up to 200 guests. Smaller events up to 30 guests range from $200-$2,000, based on day per week & Board Room or Green roof location. Tables, chairs, projector and Wi-Fi are included. Proceeds from rentals benefit Trees Atlanta & its programs.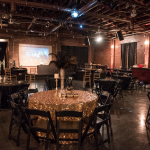 Location: 595 North Avenue NW, Atlanta, GA 30318
Cost: $1,595 (Sun-Fri) including table, chairs, candles & bartender. $500 minimum food/beverage spend required + 20% gratuity added. Additional more inclusive packages available.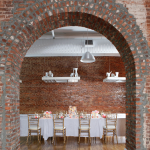 Location: 115 Martin Luther King Drive, Suite 225, Atlanta, GA 30303
Cost: The gallery is perfect for intimate events, up to 50 people seated or 85 standing. Daytime rentals are $100/hr (M-F) and evening rentals are $125/hr (M-Th). If you're looking for a weekend or holiday date, the rental costs $850 for up to 6 hours. Up to 50 chairs are included, as well as 2 5-foot round tables and 2 6-foot long tables. A catering prep kitchen with refrigerator and microwave are also available if needed.
Location: 1071 Piedmont Avenue, Atlanta, GA 30309
Cost: Dockside ceremonies are perfect for events with up to 200 people and cost between $600-$1500. The visitor's center is included with the dockside rental, which is a perfect space for rehearsal dinner or small reception of 50-60 guests. Dock does not have power, but preferred vendors have generators for rent if needed. Parking and rentals are additional costs to factor in. There is a 20% discount for January and February rentals, as well as a 10% discount for military.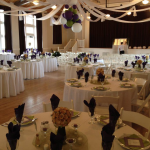 Location: 3701 College Avenue, Clarkston, GA 30021
Cost: There are four different areas of the community center available for rent. The Angora Hall has a capacity of 200 guests (seated), 300 with theater setup. Includes a curtained stage and baby grand piano. The rental rate is $950 for 5 hours (Sat, 2pm-12am) or $125/hr for Sundays until 10pm. The East Room has a capacity of 90 guests (seated), 120 theater style and rents for $95/hr. Smaller rooms are also available for $55/hr & $25/hr. Audio/Visual equipment is available for rent from the venue as well.
Location: 4522 Flat Shoals Parkway, Decatur, GA 30034
Cost: Renting the main ballroom costs $150 per hour with a minimum of 4 hours. Tables/chairs not included for this cost. Wedding packages are available for $2,000 and include the main ballroom for 8 hours, catering kitchen, 2 changing rooms, setup and break down, 16 round tables and chairs, and cleaning. If you'd like to have your reception and wedding at the same venue, the reception area downstairs is available for $450 for 4 hours.