Have you guys heard about Dirt Cheap?
My friend to told me about this weekend, and I've been twice already.
Location:
Locally, Dirt Cheap went in the location of the former Big Lots in Madison off Gallatin Rd. (1142 Gallatin Pike S, Madison, TN 37115 – open Mon-Sat 9am-8pm, closed Sunday).
It began in Mississippi, but is now in several southern states — 63 locations in 7 states:
The premise is this: Dirt Cheap carries overstocks, liquidations, customer returns and out of season goods from stores like Target, Children's Place, Gap, and more. Basically, brand name goods up to 90% off retail price.
Think: thrift-store pricing for new, brand name stuff in the following categories:
Housewares
Bed and Bath Linens
Baby Merchandise
Ladies' Clothing
Men's Clothing
Children's Clothing
Shoes
Electronics
Seasonal Merchandise
Holiday Merchandise
Lawn and Garden
Home Improvement and Tools
Food Items
Furniture
Health and Beauty
Jewelry and Accessories
Underwear
Luggage
School Supplies
Toys
Sports and Exercise Equipment
Building Supplies
Books
Since you cannot return items, I'd steer clear of buying electronics (but you can test them in the store before purchasing) or higher priced items that would put you at a loss if they didn't work correctly.
Here are a few of the best bargains I spotted at Dirt Cheap:
Beach towels – $2.99
Beach towels are like $12.99 in stores, so this seemed like a great place to stock up. They also have a whole aisle of water and pool toys. And adorable Target woven beach totes for $12.
Furniture – varies
If you're looking for an odd or end piece of furniture, you might find a chair, table, lamp or bookshelf that meets your need.
Bathing suits
$2 for bikini separates and $4 for whole pieces and trunks
The store I visited had mountains of bathing suits, so you have to dig to find what you're looking for, but unlike thrift stores, these are new, unworn suits at a fraction of retail prices.
Lawn & Garden – varies
Pots and planters, outdoor furniture covers, bug spray and other lawn and garden items — I wasn't shopping for these items but next time I am, I'll check their aisles first!
Socks & shoes – $5
My girls are really hard on socks! I got a 10-pack of low cut, brand name socks for $5. Not dirt cheap, but worth it for the quality. My girls are equally tough on shoes, and their feet just keep growing! I got them each a pair of shoes for $4/ ea. They had some really cute boots and Target flats. They had a wide selection, too.
Clothes – varies
It is so easy to overspend on clothes. That's why thrift stores rock, but it's often difficult to find like-new or quality items. At Dirt Cheap, it's all new — but the prices vary. I picked up a shirt for me that was $17, but found a shirt for my husband that was only $2.  I found an entire aisle of solid color polos for $1 each — a great buy for SSA (standard school attire) if you can find the right size. That's cheaper than the thrift store for brand new clothes. Lots of khakis, too, for school uniforms.
Housewares – varies
I love Target's housewares lines and often stalk items waiting for them to go on sale. If that sounds like you, check out what Dirt Cheap has in stock — often some of the cute decor items — even baskets and storage items — will be there. There wasn't a big selection but if you're looking for just the right accent for a shelf or table, you'll probably be able to find something that works.
Mattresses – $400
I spotted a new, wrapped king-sized mattress (they had other sizes as well) at half off retail.
Office and school supplies – varies
In the back of the store there's an area that looks like it's for employees only, but it's not, it's full of giant containers of school and office supplies! You could swim in them like billionaire Scrooge McDuck in DuckTales. Brand name markers, pens/pencils, packs of paper, binders, cases, backpacks — I even picked up a gold metallic Nate Berkus stapler.  holla! Prices varied from 25 cents to $2.50.
Baby gear – varies.
I spotted cribs and nursery furniture but also infant play toys, high-chair seats and lots of cute clothes.
Honorable mention: My friend scored several pairs of cute sunglasses for 25 cents ea.!
Prices are usually an additional percentage off than the tag states. If the sign is n't clear, and you don't want to wait until you check out to find the price, download the company's app — Dirt Cheap Deal Finder — scan the tag and it will tell you the price.
Some things to keep in mind:
Not everything is "dirt cheap" — you can easily drop $50 without thinking on items you may not even need. Make sure you're getting a good deal, or do your research!
Be prepared to dig. This isn't Target. The displays, aisles and store feels more like an overstock or thrift store.
Don't count on being able to return items you're not happy with. There's a no refund, no returns policy. All sales are final.
Here are a few photos from the store we visited this weekend to give you an idea of what it looks like and what they have:
They have several brand name cosmetics in bins toward the front of the store.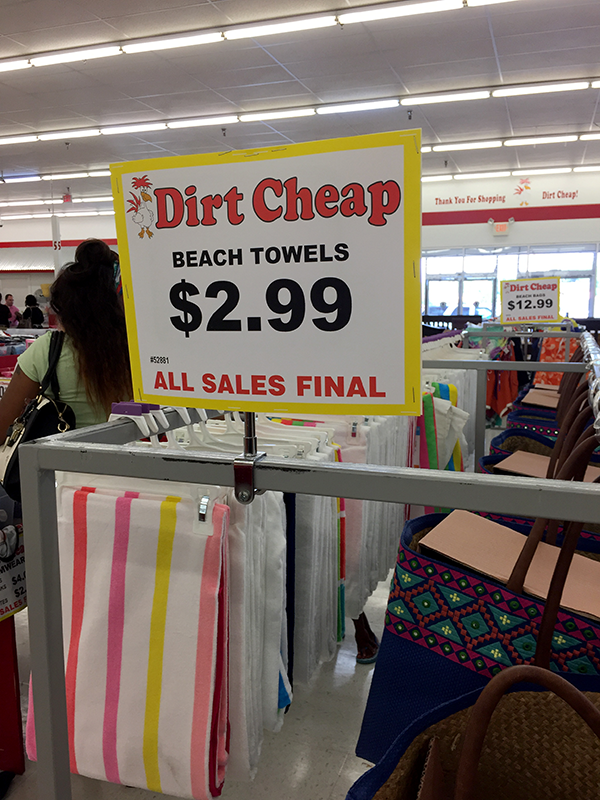 That's a great price on new beach towels, and check out those adorable big woven beach totes from Target on the right for $12.99.
They have a few furniture finds in the front of the store, and more in the back — including lots of lamps!
These are in the home decor section but on the opposite end of the store there are scores of pots for plants and lots of home and garden finds.
Bins and bins of brand-name office and school supplies!
Lots of Target brand shoes in perfect condition!
A whole row of these polo shirts were $1 /each!
Sign up for email updates and text alerts to stay on top of new inventory!
Tip: Dirt Cheap offers a military or senior citizen discounts (10% off) on Mondays and Tuesdays.
BTW, this isn't a sponsored post. The opinions in the post are my own.