One of the best-kept secrets in Nashville for affordable weddings, The Chapel weddings & events venue off Elm Hill Pike and Briley Parkway offers value, practicality, and a little piece of local culture.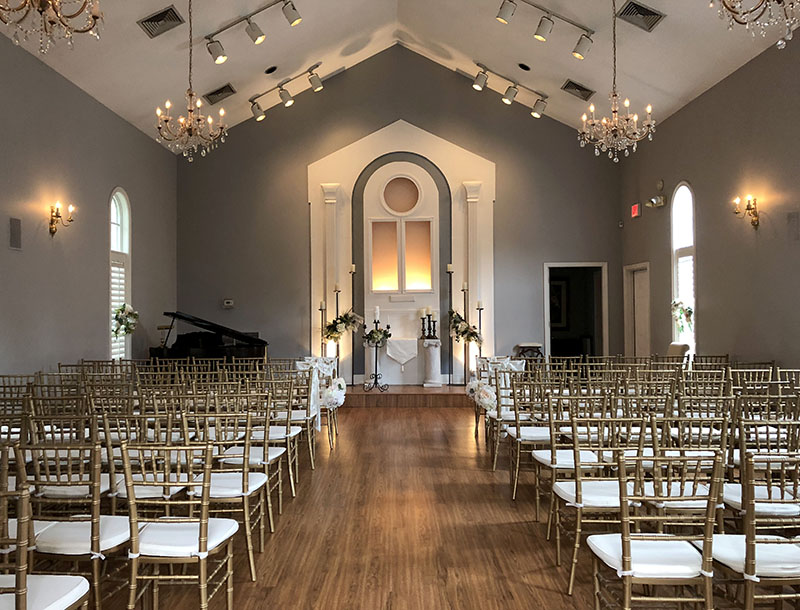 "Every wedding is a song at the Chapel," says Jane Billingsley, event planner of The Chapel. "A moment to share with family and friends the love that brought you together."
Songs are close to Billingsley's heart as a former songwriter and music industry publicist in Nashville.
Twenty-seven years ago while on Music Row, she saw a vision of a little white wedding chapel. She shared what felt like a God idea with a friend and eventually an investor, and the rest is history.
This Nashville wedding Chapel has been playing host to weddings and events for nearly three decades.
Taylor Swift, Sheryl Crow, Ben Folds, Martina McBride, Johnny Cash, Waylon Jennings, Rascal Flatts and many other artists have used this wedding chapel as a film location and backdrop for photo shoots, and visitors from all over the world have planned their destination event here.
Additionally, even the baby grand piano at the front of The Chapel has a history in Nashville. It was a part of creating the "Nashville Sound" for songs performed by such artists as Roy Orbison, Johnny Cash and other music greats.
So, is The Chapel a good fit for your wedding? It may be hard to tell until you do a site visit, but these questions will get you started:
Questions About The Chapel Wedding & Events Venue in Nashville
Where's it located?
The Chapel is at 2415 Atrium Way, Nashville, TN 37214. It's visible from Briley Parkway not far from the Opryland Area and the airport. You'll turn on Elm Hill Parkway to get there, then Atrium Way.
What's their contact info?
Phone: 615-889-6200 or 1-800-6chapel
Website: thechapelnashville.com
Email: info@ thechapelnashville.com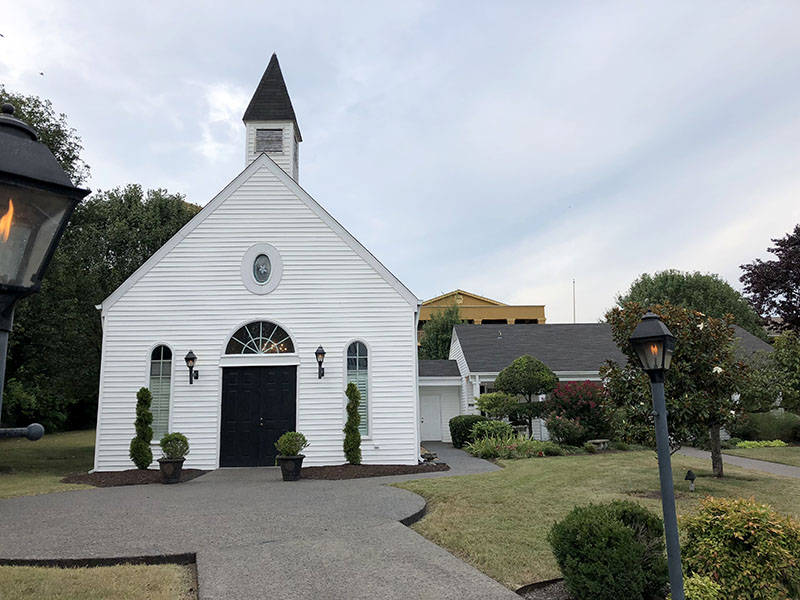 What's the capacity?
The Chapel is suitable for 125 guests (they're okay if it goes slightly over), and there's enough parking to accommodate comfortably.
How far are they booked out?
At my site visit in July 2018, they were booked on weekends into 2019, but still had some weekday availability.
Who is The Chapel a good fit for?
When I first researched and posted 10 Cheap Nashville Weddings Venues, Jane reached out and encouraged me to check out The Chapel.
I'm so glad she did.
The Chapel is good for couples who want the basics of a wedding and traditional ceremony without the fuss.
"The most popular couples are couples who want to buy a house and start a new life together," Jane explains. "And so they want to come here because they want the beauty and the ambiance. They want beautiful pictures, they want a DVD or whatever they want to feel they've been through the marriage in a beautiful way. But they can't afford to buy the house and the wedding."
This venue doesn't discriminate on the basis of sexual orientation or gender identity. All are welcome.
What's the ideal budget?
Elopements start at $140 on Fridays before 4pm. Packages start at $459 and go to up $5495.
However, they will work with any budget and offer DIY packages with their services a la carte. You can even bring in your own photographer or minister.
"We start at $140 for a couple on Fridays in the gazebo, because some people, that's what they've got," Jane explains. "They're usually sweethearts, and they're thrilled that they found a beautiful place."
What are the packages?
You can email and request a PDF of all their packages. At the time of this post, here are the available packages:
Ceremony & Reception
STARDUST – Includes wedding and reception, minister, wedding photojournalist, DVD, digital disc, musician, wedding planner and directors, bride's cake and groom's cake, finger sandwiches, fruit and cheese tray, mimosa punch and webcast

Over 125 Guests: $5,495
60 Guests: $4,157.00
30 Guests: $3,179
UNFORGETTABLE – Includes wedding photojournalist, DVD, minister, wedding planner and director, webcast

125 Guests: $1,695
Over 125 Guests – $2795
Ceremonies
ALWAYS – $1179 – Includes up to 50 guests, wedding photojournalist, minister, wedding planner and director
ALWAYS LUXURY – $1829 – Includes the above plus musician, DVD, digital disc and webcast
LOVE – $789 – Includes up to 25 guests, wedding photojournalist, minister, wedding planner and directors
LOVE LUXURY – $1297 – Includes the above plus DVD, digital disc and webcast
AS TIME GOES BY – $459 – Includes up to 10 guests, minister, wedding planner and directors (You may add photography.)
AS TIME GOES BY LUXURY – $929 – Includes the above plus wedding photojournalist, DVD, digital disc and webcast
 ONLY YOU – Includes couple, minister, wedding planner and director (You may add photography.)

Fridays before 4pm – $175/inside, $140/gazebo
Monday – Thursday before 4pm – $200
After 4pm and on weekends, $300/inside and $200/gazebo

CUSTOM – $1800 – Includes use of chapel for 6 hours for ceremonies, chairs and altar set up. Additional services can be added.
Receptions
UNFORGETTABLE RECEPTION – $1,679 – Includes 100 guests, a 3-tiered cake, nuts and mints served on silver trays, mimosa punch served in antique punch bowl: decorated reception hall, some tables and chairs set up, silver serving pieces and goblets to toast. The staff will serve and clean up.
ALWAYS RECEPTION – $989 – Includes 50 guests, a 3-tiered cake, nuts and mints served on silver trays, mimosa punch, lighted candelabrum, silver serving pieces and toasting glasses and a staff to serve and clean.
LOVE RECEPTION – $759 – includes 25 guests, a two-tiered cake. nuts and mints served on silver trays and mimosa punch. The staff to serve and clean.
AS TIME GOES BY RECEPTION -$409 – includes 10 guests, cake, mimosa punch. nuts and mints. Staff to serve and clean.
ONLY YOU RECEPTION – $179 – for the bride and groom and includes a cake and toast and staff to serve and clean.
ADD-ONS

Photography and videography specials range from $89.95 to $450
Digital Disc: $249
Photoshop services: starts at $250
DVD: $249
Musician: $175
Webcast: $75
All-Inclusive Rehearsal: $250
Bar Services: $150
Bartender: $50/hr
Bring your own photographer or videographer: $100 fee
*You have a choice of a printed album or purchasing copyright and getting a digital disc of all the images.
You can also request additional add-ons and custom elements for limo, food and floral, or ask to bring in your own. They seem pretty flexible on working with you to make sure you're getting what you want.
Jane explains: "If you wanna do barbecue, or do something comparable, then we change it and do something you want."
What does the venue provide?
The benefit of this venue is that all the key pieces are provided. You're not just renting an empty space that you have to rent and hire to pull off the wedding.
They have furniture, decorations, lighting, a wedding photojournalist and a videographer on staff. And they have the process perfected. Jane will plan, coordinate and direct the event, and work with vendors so you don't have to.
Furniture (table, chairs)
Altar set-up
Professional lighting
Bride's dressing room
Coat room
Kitchen
Optional string lights
Tents
Sound system (you can bring/choose your own music)

"And I always emphasize your music is your icing on your cake. Get your music right. This is your song, remember?" -Jane

Insurance
Minister
What about serving alcohol?
You can provide your own alcohol and add-on bar services for $150 and a bar tender for $50/hr.
What's one big difference in this venue over others?
The biggest difference here is they ask the wedding party to come dressed and ready–except for the bride. She should have her hair and makeup ready, but there is a bridal dressing room with a separate entrance to the outside where she can put on her dress and do final hair & makeup touchup.
Do they host more than one wedding a day?
Occasionally, they do host more than one during particularly busy seasons but very rarely will you ever see the other wedding party. "Sometimes when it happens and it's a busy day, it's so joyful. It's fine," Jane said. "It's a special moment. It's almost like being born. Because it's a new life."
How long are weddings?
Generally weddings and ceremonies are short and sweet. Expect your guests to be there about 45 minutes.
How does payment work?
Make a deposit, and the balance is not due until 30 days before your wedding. You pay with cash, check or card.
What about cancellations?
If it's canceled, there is no refund.
Is rehearsal included?
You can add-on a rehearsal the night before for $250, but Jane doesn't recommend it unless it'll just help you sleep better. "We've been here 27 years. We've had three. They don't go any better than the ones we do the day of."
The staff are self-professed "perfectionists," and they're confident that weddings go off without a hitch.
What do couples worry about most when planning a wedding?
"I just think they're always afraid it's just not going to be perfect," Jane said. "I understand that. So, I'll tell them, 'Believe me, I'll worry more than you do. But please call me. Because I don't mind.'"
She shared a story of a groom who had booked The Chapel for his wedding six months later. He kept calling Jane with questions and concerns. So she began proactively calling him! "I finally thought, this guy's nervous. So I called him. And then I called him again, and I called him again. And we had it all planned. He was adorable. He was thrilled.
"He wanted a cake with the Simpsons on it. Little things like that, little touches that we add that aren't expected, I guess. They just think they're gonna go into Vegas, and they're gonna get this white cake and run out the door. It just doesn't work that way here."
How do I book this venue?
Reach out to Jane at 615-889-6200 or info@ thechapelnashville.com and request their PDF of packages, request your date, schedule a site visit, and send in your deposit!