Cheap tux rentals aren't always easy to come by. Let this list of tips and tricks help you find an affordable way to make a statement on your guy's big day.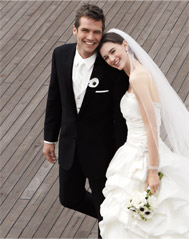 Get the Groom's Tux Free
Lots of men's formal wear stores, like Men's Warehouse and Joseph A Banks, offer a free tux rental to any groom who also has his wedding party rent their tuxes at the same time when you have a wedding party of a certain size.
Join a Rewards Program
Because this wedding won't be the only formal event the groom or groomsmen ever attend, consider joining a rewards program offered by some retailers. Men's Warehouse offers $30 off wedding party rentals if you join their rewards program! Consider asking the entire party and see what kind of discounts you can get!
Make Sure You Actually Want a Tux
Often when we think of the perfect wedding, we think of the bride wearing a white dress and the groom wearing a tux. However, you might consider looking into suits because a well tailored suit can often look as good as, or even better than, a tux. Ask yourself if a tux is really needed given your venue and theme. It might look too formal! If not, look into some alternate options to rent or buy and you may save big time.
Buy Instead of Rent
Sometimes rented tuxes, and even suits, are not that much cheaper than buying the whole outfit. This is especially true if the groom or groomsmen don't mind wearing their tuxes again for other weddings or formal events. If you're not crunched for time, sometimes waiting for seasonal sales will save you a lot of money in the tux department–especially in the long run.
Borrow Accessories
Just like the bride will be wearing something borrowed and something new, consider having the groom and groomsmen borrow white shirts, socks, ties, cufflinks, bow ties, or other items that can drive down the cost of a rental while still having all of the finishing touches required for a polished look.
Work for a Deal
Maybe your wedding party is not quite the right size to get the groom's tux free? Often if you're close, retailers will make an exception just to get a sale–and it never hurts to ask! You might also try to get a little more bang for your buck by purchasing ties or other accessories for the gifts for the groomsmen in lieu of another tux rental and see if they'll let that money go towards a free tux.