I'm developing a series of resources to help with each area of wedding planning, and I'm really excited to offer this one for couples looking for affordable wedding photography in the Nashville area.
It's a detailed listing of 28 Nashville wedding photographers who offer packages for $2,000 or less.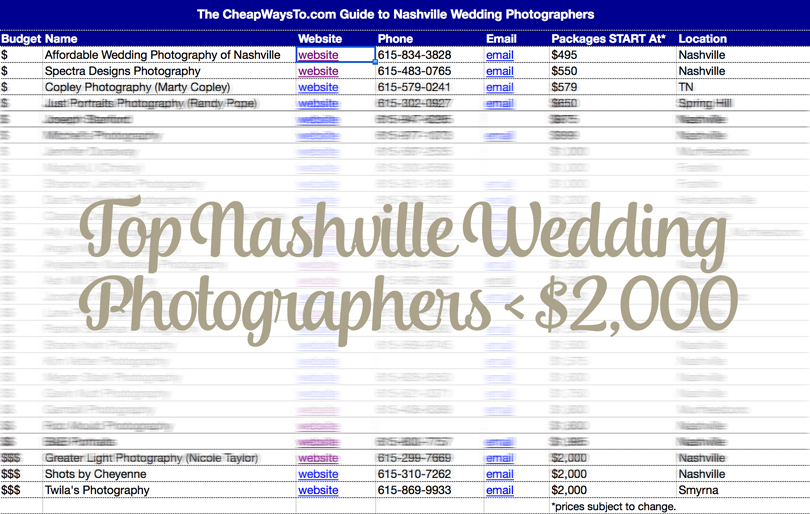 Why It's Important
Wedding photography is quite possibly the most important part of your wedding, but it's one in which you will feel the least control over because you can't actually do it yourself. If there's any one area to splurge for during your wedding, this is it.
How It Can Be Affordable
Here's an example of one interview I did with a photographer who is included in the list, and why he's able to keep costs down for your benefit:
"My basic photo packages range from $1,500-$2,500 and offer from 6-10 hours of wedding day coverage. I am able to keep my costs down because I work alone. I do not have to pay assistants or second shooters because I use multiple cameras to cover events by myself. I do not charge for access to the edited images. Rather, my photo packages include wedding day coverage and a thumb drive with ALL the edited images. It is much more cost effective to do this as opposed to hosting the images online and charging a download fee for each image. Also, my photo packages come with a complimentary engagement photo shoot. This saves the couple a tremendous amount of money, and gives us an opportunity to build a relationship before their big day." —Patrick Sheehan, pcsheehan.com
Here's one of his amazing photos:
How to Pick Your Wedding Photographer
Screen potential photographers by checking out their portfolios online. This will save you time by only having to meet with and interview the three you like best.
Interview two to three photographers to get a feel for their portfolios' styles and to hear about their packages. Ask them questions, like:
Will they shoot traditional portraits and candids?
Will they offer color and black and white?
How long will they be at the wedding?
Will they bring an assistant? If so, will that cost be factored into the price?
How long before you see proofs?
(Professional Photographers of America (PPA) and Wedding Photojournalist Association (WPJA) are also two great places to start when looking for professionals nationwide.)
Skip the endless Internet searches and Facebook questions and find the best photographer for your Nashville wedding budget right here!