I am trying to keep up with new wedding barns and other wedding venues that come available in Nashville because of guide I put together last year:
When I saw there was a new wedding barn venue available, I emailed the owner, because engaged couples often comment and email me looking for wedding barn options in Nashville. The pickings for those on a budget are slim, but there is the Poplar Hollow Farm I blogged about several months ago. On the flip side, there was a barn wedding venue I inquired about, but they don't even talk to couples with wedding budgets less than $40,000. Ouch!
So I talked to David & Cathy Fleming, who have this beautiful, extremely affordable venue available for rent. I asked him some questions about it and thought I'd share that info with you here (with their permission). Here are some photos as well.
4338 Rock Springs Road, Smyrna, TN – Wedding Barn Rental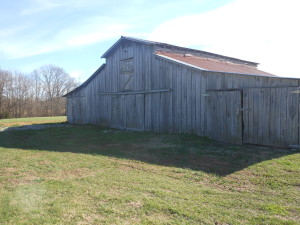 Rustic Venue located in Smyrna, TN. Convenient to Nashville, Franklin and Murfreesboro. Available for weddings, wedding receptions, parties and other occasions. 2100 sq. ft. Comfortably seats 120, will accommodate more. Concrete floor great for dancing, small loft area is great for sound person or photo op. Includes 2 bathrooms, ample parking area, outdoor fire pit. Located on 10 acres of manicured lawn. $1,500.00 per day.
Contact:
If do you need more information about this contact know, call or text 615-972-8313 or email flemingbarn[a]yahoo.com OR dcf4dci[a]yahoo.com
Cheap Ways To: What made you want to turn your horse barn into a rental venue?
David: The main reason we decided to redo our barn is because it was getting in a state of disrepair and we have NO interest in having horses. However, we didn't want the barn to just fall in and disappear, so that's where the idea of fixing up the barn came from. 
We are living here nine years and have enjoyed many many cookouts and bonfires back behind the barn. The only problem was if it rained, we were just rained out. Also, we had to drive the 4-wheelers up to the house to use the bathroom. Soooo, we started ripping out the stalls and the hayloft and opened up the space. 
I have to say it has turned out really good. We have two bathrooms now that have washtubs for sinks, very rustic looking, the doors to the bathrooms are actual stall doors and the vanities were made from some of the barn wood.  
We do not have electricity in the barn however, we bought a generator, and it works great. we have installed party type lights all over the inside and even flood lights on the outside. They work great, and so far we have had no problems with electricity. 
Tell us more about you and your family and the property. 
Our family consist of my wife and myself and our two children, both of whom are adults now — one is in her senior year at Western Kentucky and our son is about to move out on his own into a condo across town. 
I will describe our property as best and as objectively as possible. We live on what some people would call a gentleman's estate. We have 10 acres in the heart of Smyrna (3 minutes from I-24). 
Our home is situated about 100 yards off of the road with pretty stone walls and iron gates at the entry. The drive is lined with magnolia trees.  One time you reached the top of the hill where our house is, there is a gravel road that veers off to the left and leads towards the back of the property where the barn is. About 200 yards behind our home is the barn. 
Our entire property is manicured and mowed (I'm a bit picky about my lawn care !). We have only one neighbor, the rest of our property is surrounded by woodland.
Nashville is a booming city and wedding venues are scarce — what makes yours a good option and for whom?  
All in all, I think it's a great venue for the money. 
Tell us about the first couple of events you've had there. How'd they go?
We have hosted four events at our barn since we finished it up in October (2015). The first was a wedding reception that had only 120 people to RSVP but had 173 people show up! Needless to say, the caterer was scrambling at the last moment to cover the dance floor with additional tables.
It all worked out well, and after the dinner, a lot of the older guests left and they removed the tables and the dance commenced. (It was raining like crazy, so they couldn't set any tables outside).
We personally hosted two events:  first was a cookout for my wife's school teachers, aprox. 50 people were in attendance and we also had a Halloween party for about 50 people. Both events went off without a hitch and everything worked great.
How many people can this location accommodate?
We discovered that the barn easily can accommodate 100 – 130 ish people at tables and still have a small dance floor. If the weather is cooperative and nice, you could host an unlimited number since there is plenty of yard space for tables outside also. I have committed to allowing the "Home Schoolers Association" to have their senior prom here in the spring.  They seem very excited about it, and one of the people who asked about it was in attendance at the wedding during the rainy night.
Do you require wedding liability insurance? 
I am requiring them to supply insurance. I will require anyone who uses it to do the same. 
What's included in the vest rental fee (and what isn't)? 
At this time I do not have any tables and chairs for use. However, there is a fire pit and we will supply all of the firewood for its use. The only "strange" request I have is I am going to require that the person renting the place to pay for two helpers: $15 an hour each.  These will be people who will assist in the directing of parking cars (which is plentiful) and to just be present to assist with any problems that could potentially arise. 
Are there any additional costs, cleaning fees? 
I don't have a cleaning fee; however, I will require a cleaning deposit that will be returned if the barn is left clean.
Is there a space for the bride to get ready? 
I don't really have a good place for the bridal party to get dressed at this time.
Is there a noise ordinance related to amplified music outdoors in your area?
As far as a noise problem,  I am sure the city has ordinances of some sort but so far we haven't caused a problem and the music was plenty loud at the wedding in October!
Thanks, Cathy & David! Best of luck to you and the future couples who rent your beautiful venue!